THE COMPANY
Since 1975 Ascanio Química S.A. has offered its clients a wide range of chemical solutions in the Canary Islands. Whilst maintaining the greatest of respect for the environment, endorsed by recent EMAS certification, we adapt to our clients needs and guarantee a distinctive quality in all our processes.
Backed by more than 40 years experience operating in this sector, the organization centres its activities on the storage, supply and distribution throughout the Canary islands of a wide range of chemical products, industrial raw materials and chemical specialties.
The synergy of this experience and qualified professionals endorses Ascanio Química, S.A.as an expert in the sector and has allowed for the opening of new areas of growth (Technical consultation, Training, Engineering and Project execution, etc.). Our main offices are located in the provinces of Santa Cruz de Tenerife and LasPalmas de Gran Canaria, The Canary Islands.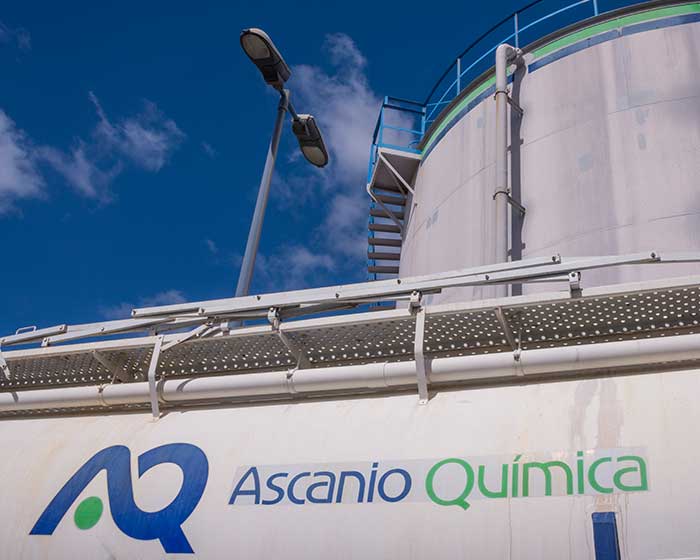 Staff with university education
STORAGE
Currently, Ascanio Química S.A. has a total storage area of 18,000 m2, of which 6,450 m2 is covered storage and 5,000 m3 is storage tanks.All facilities are certified ITC MIE-APQ-6, which justifies the suitability of the facilities for storing corrosive liquids.
EQUIPMENT
Ascanio Química S.A. has the necessary logistics equipment to ensure delivery to the client in the shortest possible time and in the optimum condition in both quality and safety. To do this, we have a wide range of tank containers for distribution by sea and land. All our vehicles receive continuous maintenance and are duly certified in compliance with all the technical and legislative standards established for their use.
HUMAN RESOURCES
Ascanio Química S.A. has a large staff of professionals in both provinces assuring coverage of all our clients needs both nationally and internationally who can rely on technical experts, logistics, exporters, etc. In addition to guaranteeing the services and products on offer we also have specialized operators in continuous training, who through their experience create an added value; unique in the chemical product sector in the Canary Islands.